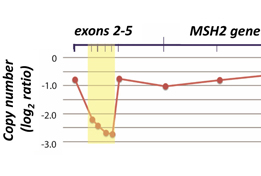 Mismatch repair deficiency in high-grade meningioma: a rare but recurrent event associated with dramatic immune activation and clinical response to PD-1 blockade.
Dunn IF, Du Z, Touat M, Sisti MB, Wen PY, Umeton R, Dubuc AM, Ducar M, Canoll PD, Severson E, Elvin JA, Ramkissoon S.H, Lin JR, Cabrera L, Acevedo B, Sorger PK, Ligon KL, Santagata S, Reardon DA.
JCO Precis Oncol. 2018. doi: 10.1200/PO.18.00190. PMID: 30801050. PMCID: PMC6383717.